Alphabet earnings call: Tough comps ahead, happy with Cloud uptake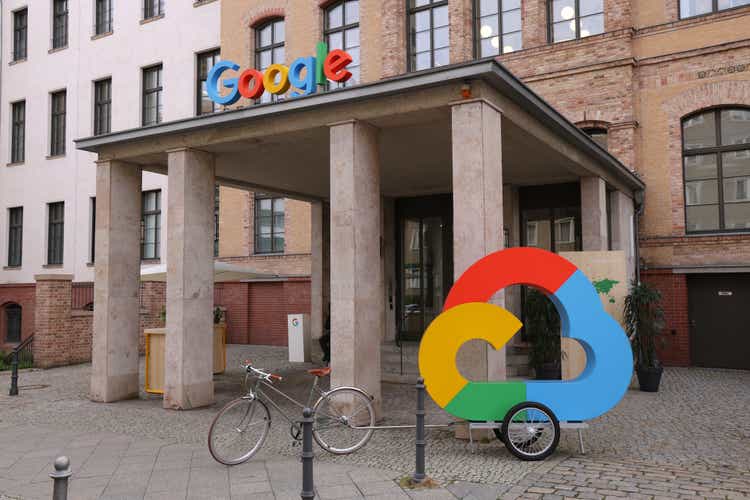 Alphabet's postmarket gains are getting stronger following its Q2 earnings near-miss – (NASDAQ:GOOG) +5.1%, (NASDAQ:GOOGL) +5.6% – even as the company used its earnings call outlook to warn of ongoing tough comparisons, more currency challenges from the strong dollar, and some brand spending slowdown ahead.
In the call (just completed), Chief Financial Officer Ruth Porat pointed to challenging Q2 comparisons and said "going forward the very strong revenue performance last year continues to create tough comps that will weigh on year-on-year growth rates of advertising revenues for the remainder of the year."
"In YouTube and Network, the pullbacks in spend by some advertisers in the second quarter reflects uncertainty about a number of factors that are challenging to disaggregate," she added.
As for a U.S. dollar that offered a "significant" tailwind last year amid the COVID-19 pandemic, it's now a hurdle and based on quarter-to-date, the company expects an even bigger foreign-exchange headwind from the strong dollar, Porat says (it marked a 3.7 percentage-point negative impact in Q2).
The impact of foreign exchange is heavier on operating income than on revenues, Porat notes, and the company's expense base is weighted more to the United States, with most research and development located at home.
A slowdown in hiring will become more apparent in 2023, she said, and the company continues to expect an increase in capital expenditures for the balance of 2022 vs. last year, "particularly reflected in investments in technical infrastructure globally, with servers as the largest component."
YouTube search has become a 2022 concern, and Chief Business Officer Philipp Schindler devoted some of his commentary to the unit. In the second quarter, the biggest factor in a year-over-year comparison was lapping the "very strong" Q2 in 2021, during a recovery from the early COVID-19 impacts.
YouTube is still well positioned to deliver the reach, results and relevance advertisers want, he said. As for the video-streaming sector's battle over short-form videos and rival TikTok (BDNCE): "Consumers are increasingly consuming short-form videos. Obviously, we're seeing this across multiple platforms, including YouTube."
Shorts on YouTube are being watched by 1.5B-plus locked-in users every month, he said, and the unit has seen significant growth in watch time globally. And "early results in shorts monetization are also encouraging and we're excited about the opportunities here."
Queried about any urgency to bring cloud margins toward break-even, Porat says the company view is "this is an extraordinary opportunity, this is a long-term opportunity and enterprise customers are still early in their move to the cloud."
Internally they debate the trade-off between revenue growth and immediate profitability, and "what we're focused on is ensuring that we're investing to support the long-term growth, given the upside that we see … and looking at the path to profitability, path to free cash flow positive, to drive attractive returns," Porat said.