Apple is working on generative AI. Morgan Stanley shares how it could monetize it.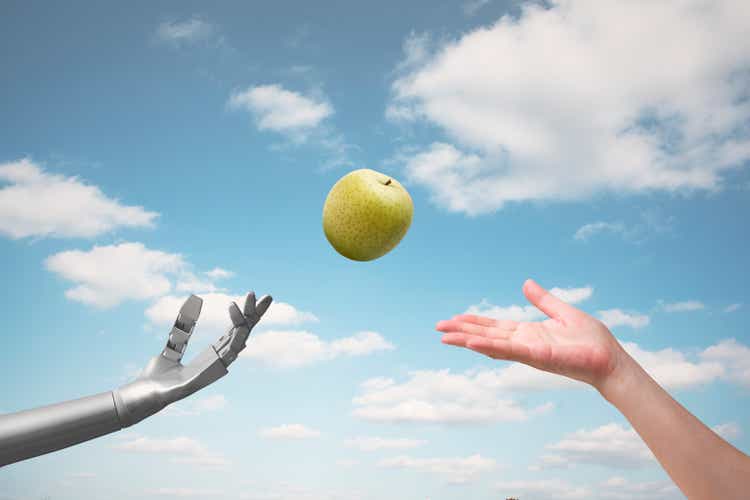 Apple (NASDAQ:AAPL) has not been terribly vocal about its generative artificial intelligence plans, save for CEO Tim Cook saying the tech giant is "investing quite a bit."
That's likely to change in 2024, according to Morgan Stanley.
Analyst Erik Woodring said 2024 will likely be a "catalyst year" for Edge AI — AI work done on smartphones and PCs and not entirely on data centers — due in part to consumption and processing power improvements, notably the A17 Pro chip. The A17 Pro can process 35 trillion operations per second, which gives it enough power to large language models up to "high single digit billions of parameters."
"We believe Apple will emerge as one of the key winners – or 'Edge AI Enablers' – in this race given the unique data from Apple's 2 billion+ devices and 1.2 billion+ users, Apple's focus on data privacy, and Apple's leading hardware, software, silicon and services vertical integration," Woodring, who has an overweight rating on Apple (AAPL), wrote.
As such, incorporating AI is likely to be a "multi-year tailwind" for Apple (AAPL), boosting the monetization of its products and driving the long-term value of its user base higher, Woodring said.
In terms of raking in revenue from generative AI, Woodring said there are five paths, the first via share gains in hardware. He said this somewhat vague idea is the "most likely outcome" as Apple (AAPL) could deliver a "superior" AI user experience and result in an additional 12M iPhone units being shipped, generating roughly $11B in revenue and between 13 and 19 cents per share in earnings.
For Services, Woodring said Apple could benefit from either new users, higher pricing or new traffic acquisition cost agreements.
Woodring also mentioned App Store purchases as another way for Apple (AAPL) to monetize generative AI, including commissions from apps such as ChatGPT and other generative AI apps, which it already does. (The company reportedly built its own version of a ChatGPT style bot for its employees.)
Earlier this month, Sam Altman, CEO of ChatGPT-maker OpenAI, said the company has 2M developers building products and more than 100M weekly active users.
Lastly, Woodring suggested Apple (AAPL) could launch a "premium" Siri subscription service, utilizing generative AI.
"[W]e estimate that if Apple charged just $5 per month for Siri, every 10% penetration of the iPhone installed base would drive an incremental $7B+ of high-margin Services revenue per year, or about 7 points of growth to Services," Woodring said.
Siri is reportedly being updated to incorporate large language models so users can automate complex tasks in ways they currently cannot.
Woodring believes some investors question whether Apple (AAPL) is as serious about AI as other big tech companies, like Google (GOOG) (GOOGL), Amazon (AMZN) or Microsoft (MSFT). However, all signs point towards Apple being a leader in Edge AI and it's just a matter of "when," not "if."