Berkshire Hathaway Q3 earnings rise 41% Y/Y, cash holdings jump to $157B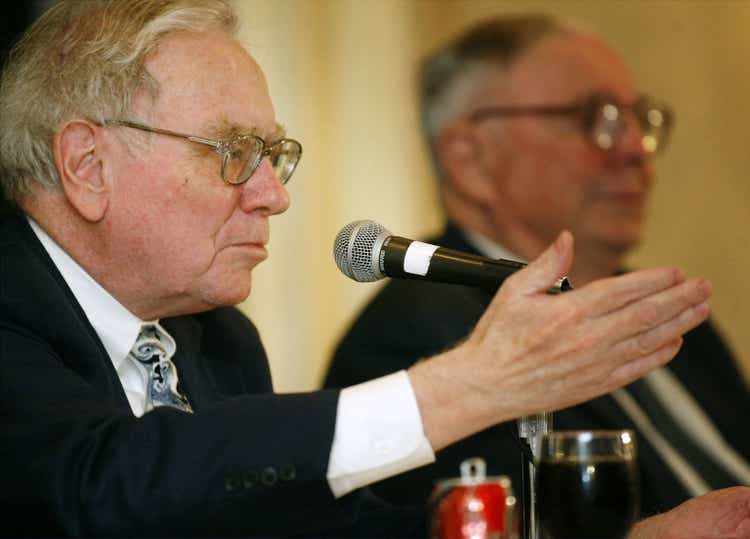 Berkshire Hathaway (NYSE:BRK.B) (NYSE:BRK.A) Q3 operating earnings jumped 41% Y/Y, strong performance in its insurance businesses, both in underwriting and investment income. Those were partially offset by profit declines at its utlities and energy and its railroad businesses.
The company bought back $1.1B of its common stock during the quarter, compared with ~$1.4B in Q2, bringing year-to-date purchases to $7.0B
Berkshire Hathaway (BRK.B) held ~$157B in cash on its balance sheet as of Sept. 30, 2023, compared with $147.4B at June 30.
Q3 operating earnings of $10.8BB rose from $10.0B in Q2 and $7.65B in the year-ago quarter.
Insurance float of $167B at Sept. 30, 2023 rose from $166B at Sept. 30, 2023.
Operating earnings by business segment:
Insurance – underwriting: $2.42B vs. -$1.07B a year ago, as earnings benefited from relatively low catastrophe losses in the quarter. Geico pretax underwriting earnings jumped to $1.05B compared with a $759M loss in the year-ago quarter, as its net premiums earned were little changed, but its losses and expenses declined.
Insurance – investment income: $2.47B vs. $1.41B a year ago.
Railroad: $1.22B vs. $1.44B; earnings at BNSF fell 15.3% Y/Y primarily from lower freight volumes and higher non-fuel operating costs.
Utilities and energy: $498M vs. $1.60B in Q3 2022.
Pilot Travel Centers: $183M vs.nil.
Other controlled businesses: $3.34B vs. $3.25B a year ago.
Non-controlled businesses: $226M vs. $346M in Q3 2022.
Other: $400M vs. $679M.
Investment and derivative losses, most of which are unrealized, were $23.5B in Q3 compared with $10.4B in the year-ago quarter. That resulted in a net loss of $12.8B in the most recent quarter, compared with a loss/ of $2.80B a year ago.
As of Sept. 30, 2023, about 78% of Berkshire Hathaway's $318.6B of equity holdings, at fair value, were concentrated in five companies — American Express (AXP), Apple (AAPL), Bank of America (BAC), Coca-Cola (KO), and Chevron (CVX); compared with a 78% concentration (same five companies) of a $353.4B portfolio at June 30, 2023.
Meanwhile, its holdings in Occidental Petroleum (OXY), at fair value, increased to ~$14.5B at Sept. 30 from $13.2B at June 30, and the value of its stake in Kraft Heinz (KHC) dropped to $11.0B from $11.6B.