ESPN BET launches next week – do Disney and PENN have an edge?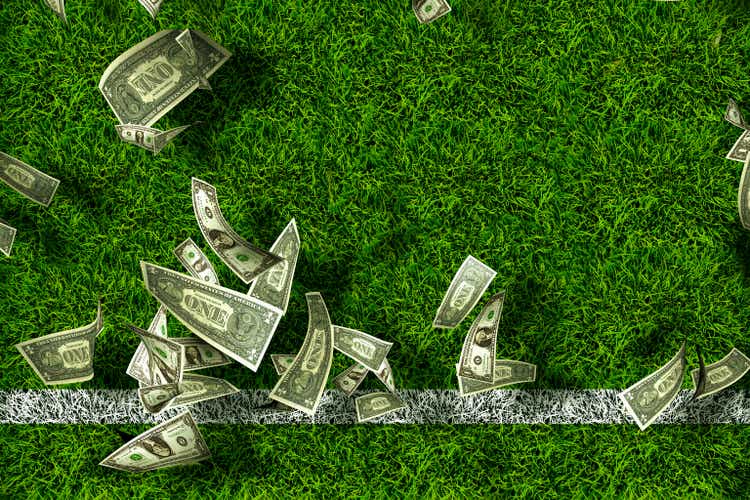 ESPN BET will go live in 17 states on November 14. Disney (NYSE:DIS) property ESPN will also start using official odds provided by ESPN BET across editorial and other content. PENN Entertainment (NASDAQ:PENN) secured the exclusive right to the ESPN Bet trademark for online sports betting in the U.S. for an initial 10-year term, which may be extended for an additional 10 years upon mutual agreement. The casino operator committed to $2B to ESPN for the partnership, with $1.5B in cash to be paid over 10 years and $500M in warrants to buy 31.8M shares of Penn's (PENN) common stock. The launch of ESPN Bet arrives at a strategic time for the sector, just ahead of the busy slate of Thanksgiving week college and pro games. ESPN BET will compete right from the start for online sports betting market share with FanDuel (OTCPK:PDYPY), DraftKings (DKNG), Betr, BetMGM (MGM) (OTCPK:GMVHF), bet365, Caesars Interactive (CZR), Fanatics (FANA), Barstool, Hard Rock, and PointsBet (OTCQX:PBTHF). Initially, ESPN BET will only be live Arizona, Colorado, Illinois, Indiana, Iowa, Kansas, Kentucky, Louisiana, Maryland, Massachusetts, Michigan, New Jersey, Ohio, Pennsylvania, Tennessee, Virginia, and West Virginia.
Penn Entertainment (PENN) Jay Snowden previewed at a recent conference that there will be significant integration between ESPN media content and ESPN BET for users. He noted that there will be "tremendous" opportunity for crossover across ESPN BET and other ESPN content/IP, including with fantasy games.
"What's really different for us is this deep integration behind the number one sports media brand in the world and those sports fans who like to bet and want to bet, and the trust factor to do this seamlessly is something we take very seriously," noted Snowden said.
What to watch: As part of the broad launch of ESPN BET, ESPN's Daily Wager program will rebrand to ESPN BET Live. ESPN reporters and insiders covering a specific sport will be prohibited from betting on it, per the company's rules. ESPN will also stop leaning on DraftKings (DKNG) and Caesars Entertainment (CZR) for betting content. In a broader context, the ESPN BET launch takes place with Disney (DIS) looking for a strategic partner to purchase a minority equity stake in the network, and with plans in place to create a direct-to-consumer product by 2025. Wedbush Securities analyst Dan Ives thinks ESPN is an asset that ultimately Apple (AAPL) will consider buying. Meanwhile, Penn Entertainment (PENN) is coming off a weaker-than expected quarter for its brick-and-mortar casinos, but is on a general path to lower its leverage ratio and reap the tech stack benefits of the $2B purchase of theScore in 2021. Shares of PENN are down 19% on a year-to-date basis, but have perked up over the last week.