Gold slumps to weekly loss on hawkish Fed talk, waning Middle East fear trade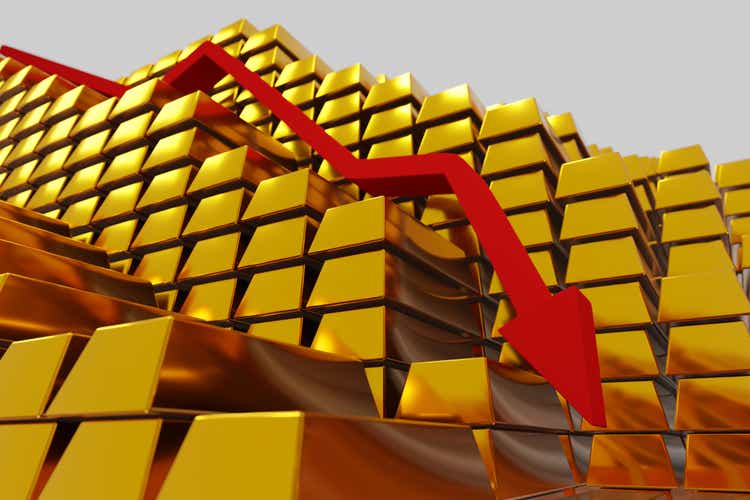 Gold futures fell sharply Friday in the sharpest single-session drop since mid-April, capping the metal's first weekly loss in five weeks, whacked by hawkish remarks from Federal Reserve Chair Jerome Powell.
In remarks at an International Monetary Fund panel Thursday, Powell said Fed officials were not yet confident that interest rates are high enough to bring inflation down to their 2% target over time, taking the markets by surprise.
Gold prices also have been weighed by a drop in safe-haven sentiment, as fears that Middle East tensions will spill over to wider regions have eased, with the metal's downward trend likely continuing for now.
Front-month Comex gold (XAUUSD:CUR) for November delivery ended the week -2.9%, including a 1.6% drubbing on Friday, to $1,932.60/oz, while November silver (XAGUSD:CUR) settled -4.2% on the week, including a 2.7% loss Friday, to $22.215/oz.
ETFs: (NYSEARCA:GLD), (NYSEARCA:GDX), (GDXJ), (IAU), (NUGT), (PHYS), (GLDM), (AAAU), (SGOL), (BAR), (OUNZ), (SLV), (PSLV), (SIVR), (SIL), (SILJ), (SLVP)
"Gold will continue to trade sideways to lower in the near term unless we see an escalation in geopolitical events, weak U.S. economic report or if the Fed suggests it is done raising rates," Kitco analyst Jim Wyckoff said.
But gold could hit a record high $2,100/oz next year, supported by rate cuts from the Fed, Capital Economics said in a report his week.
The 10-year Treasury yield should fall on looser monetary policy and the dollar likely will weaken on rate cuts, which also should benefit gold, Capital Economics said.