June's credit card data shows no recession, but cracks start to emerge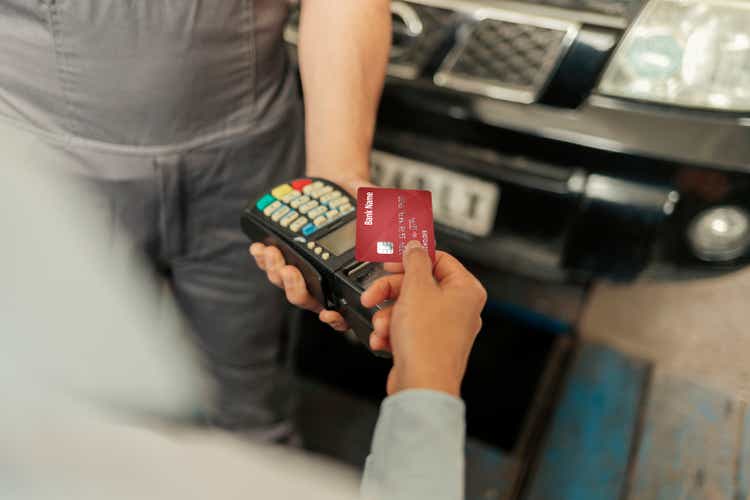 So far, credit card issuers aren't seeing a recession. Through June, consumers have continued to spend as seen in credit card companies' rising receivables. Of course, inflation is likely helping that rise.
Bank of America (NYSE:BAC) said June credit card spending rose 16% Y/Y and debit card spending rose 6%. "Consumers are in better shape to respond to a slowdown in the U.S. economy than they have been in many previous business cycles," said David Tinsley, senior economist for the Bank of America Institute.
JPMorgan Chase (NYSE:JPM) Chairman and CEO Jamie Dimon agrees. "Consumers are in good shape," he said during the bank's Q2 earnings call. "They're spending money. They have more income. Jobs are plentiful." He said consumer spending increased 10% from a year ago and almost 30% more than pre-COVID.
That jibes with the credit card networks' experience. Visa's (V) fiscal Q3 credit payment volume rose 16% Y/Y to $728B. Mastercard's (MA) credit gross dollar volume pegged up 15% Y/Y to $984B in Q2 2022.
For the most part, credit card delinquency rates are stable. The threat of cracks in the currently healthy picture is lurking, though. Delinquency rates at Capital One (NYSE:COF) and Bread Financial (NYSE:BFH), which have consumers with lower credit scores, have risen in the past two months as seen in the table below.
Net charge-off rates declined from May to June at each of the companies in the table.
During the pandemic, delinquency rates and net charge-off rates declined to lower than normal levels as consumer received stimulus checks and enhanced unemployment benefits. With those fiscal support programs largely expired, credit card metrics are slowly normalizing. June 2022 delinquency rates for Both Capital One (COF) and Bread Financial (BFH), formerly Alliance Data Systems, are still lower than June 2019 levels.
"Credit continues to normalize faster at the low-end of the credit spectrum, wrote Wolfe Research analyst Bill Carcache in a note to clients. He figures that credit card lenders will need to start increasing their reserves for bad debt.
Overall, Carcache has an Underweight stance on card issuers. He favors pairing prime and super-prime credit card companies American Express (NYSE:AXP) and Discover Financial (NYSE:DFS) over issuers with more exposure to the lower end, such as Bread Financial (BFH), Capital One (COF), and Synchrony Financial. (NYSE:SYF).
The overall market isn't bullish on credit card stocks, either. Of the pure-play credit card issuers, only American Express (AXP) shares, down 9.3% YTD, declined less than the S&P 500's 14% drop as seen in this chart.
2022
Company
Ticker
Type
June
May
April
3-month average
Capital One
COF
delinquency
2.35%
2.22%
2.18%
2.25%
charge-off
2.20%
2.40%
2.19%
2.26%
American Express
AXP
delinquency
0.70%
0.70%
0.70%
0.70%
charge-off
0.80%
0.90%
0.90%
0.87%
JPMorgan
JPM
delinquency
0.66%
0.67%
0.70%
0.68%
charge-off
1.18%
1.27%
1.24%
1.23%
Synchrony
SYF
delinquency
2.70%
2.70%
2.70%
2.70%
adjusted charge-off
2.70%
2.90%
2.70%
2.77%
Bread Financial
BFH
delinquency
4.40%
4.00%
3.90%
4.10%
charge-off
5.40%
6.20%
5.20%
5.60%
Citigroup
NYSE:C
delinquency
0.79%
0.78%
0.82%
0.80%
charge-off
1.10%
1.39%
1.36%
1.28%
Bank of America
BAC
delinquency
0.84%
0.84%
0.88%
0.85%
charge-off
1.23%
1.42%,
1.46%
1.35%
Avg. delinquency
1.78%
1.70%
1.70%
1.73%
Avg. charge-off
2.09%
2.51%
2.15%
2.25%
Note that Discover Financial (DFS) doesn't release its monthly credit card metrics for the last month of each quarter. For Q2, Discover's credit card net charge-off rate was 2.01%, up 17 basis points from Q1 but down 44 bps from Q2 2021. Its delinquency rate of 1.76% fell 1 bp from Q1 and increased 33 bps from the year-ago quarter.
On a broader scale, personal spending in June rose 1.1% from May, according to the Bureau of Economic Analysis report released on Friday. The PCE price index, an inflation gauge that the Federal Reserve watches closely, increased 1.0% from May and 6.8% Y/Y, slightly higher than the 6.7% expected.