Microsoft rebounds on 'Gibraltar' forecast for double-digit full-year growth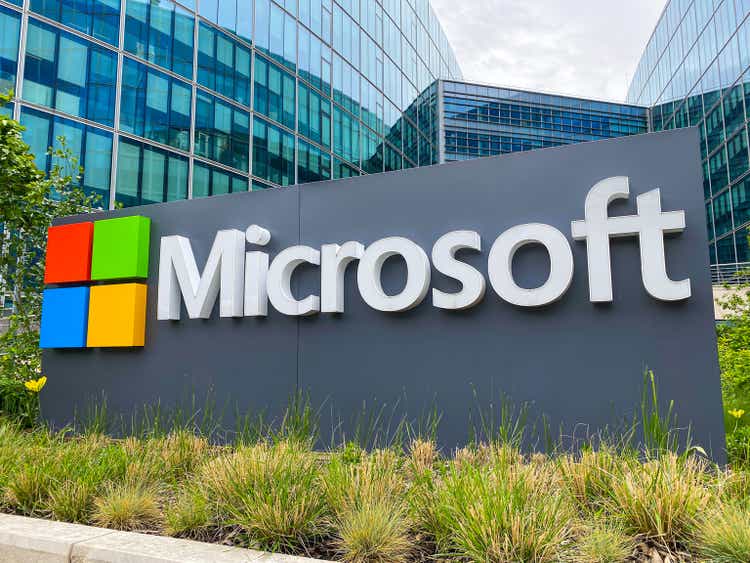 Microsoft stock (NASDAQ:MSFT) has rebounded, jumping 4.3% after hours following surprisingly upbeat guidance after a Q4 miss.
On its earnings call, the company said it expected double-digit growth in sales and operating income in fiscal 2023, with margins roughly flat. That sticks to its previous guidance, an encouraging sign given the concerns of a looming recession.
"MSFT bullish guidance for FY23 will be heard around the world and Street," Wedbush analyst Dan Ives tweeted. "Rock of Gibraltar in an economic storm. Cloud and enterprise growth forecast key. This will be a laser focus tomorrow am."
For the fiscal year ending June 2023, Wall Street is looking for a sales rise of 13.6%.
Shares were down as much as 3.5% postmarket after the initial earnings release posted.
Azure sales growth will be about 3% lower in the current quarter, the company said. It's expecting Productivity sales to come in at $15.95B-$16.25B; Intelligent Cloud sales at $20.3B-$20.6B; and Personal Computing sales to arrive at $13B-$13.4B.
"Street was hoping/whisper for 40% azure growth in Sept quarter, MSFT gave 43% with positive comments on demand," Ives said. "Combine this with a better than feared Alphabet-'major 1-2 punch' for beaten down tech sector."
Meanwhile, as with other companies, the strong dollar is forcing a foreign-exchange headwind for global tech firms, but Microsoft indicated that might not be as bad as expected, with a 5% headwind for the current quarter and just a 4% negative impact for the year.
Gains in Microsoft and Alphabet – (GOOG) is +4.3%; (GOOGL) +4.5% – are helping drive American stock futures higher in the early evening. Nasdaq futures are up 1.2%, while S&P e-mini futures are 0.7% higher.
See why Seeking Alpha's Quant Rating has a Hold on the stock.