Nike, Target lead retailers among biggest Q3 market cap decliners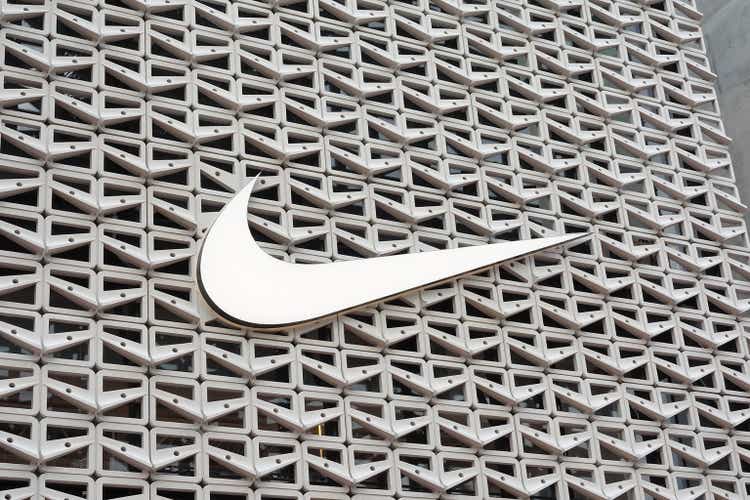 Nike (NKE), Target (TGT), and Kering (OTCPK:PPRUF) were the retailers that saw the biggest percentage drops in market value in Q3 compared to the prior-year period.
Nike's market value fell 19.2% to $137.1B in the quarter, making it the retailer with the largest decline.
Target (TGT) and Kering (OTCPK:PPRUY) each fell 16.9% to, respectively, market caps $50.6B and $56.6B.
Overall, the top 25 publicly traded retailers lost a combined $80B in Q3, according to data and analytics firm GlobalData. Gracio Benher, a business fundamentals analyst at the firm, said that varied earnings outlooks for fiscal 2023 contributed to the decline.
Amazon (NASDAQ:AMZN), Walmart (NYSE:WMT), and Home Depot (NYSE:HD) retained their rankings as the three largest worldwide retailers in Q3 based on market cap. While Amazon (AMZN) and Home Depot (HD) each saw modest declines in market value, Walmart's (WMT) increased 3.4% to $437.5B.
Amazon (AMZN) lost ~$38B in value in Q3 with its market cap falling to just under $1.3T. GlobalData said the e-commerce giant was negatively impacted by weak consumer spending and rising delivery costs due to higher fuel prices.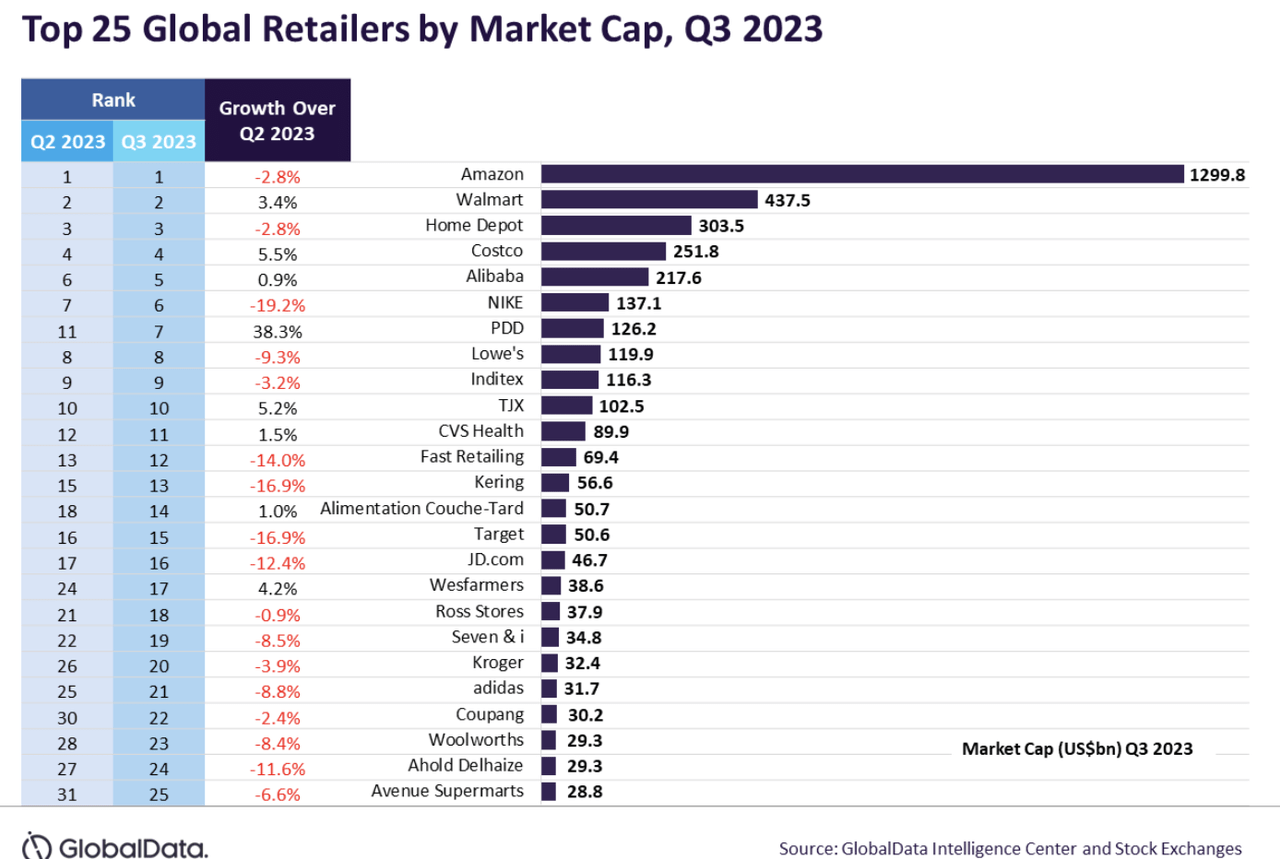 Some retailers did extremely well in the quarter. PDD Holdings (PDD), best known for operating the e-commerce platform Pinduoduo, saw its market value rocket 38.3% higher to $126.2B.
GlobalData attributed PDD Holdings' (PDD) success to excellent quarterly earnings and its robust business model centering on discounted and private label products in second- and third-tier cities in China. Its online agriculture platform, which delivers produce to consumers, also helped.
Rounding out the top 3 retailers that gained market value in the quarter were a 5.5% rise for Costco (NASDAQ:COST) to $251.8B and the TJX Companies (TJX) up 5.2% to $102.5B.
"The short-term outlook for the retail sector remains positive, with retailers expected to benefit from a revival in consumer spending during the upcoming holiday season, which is expected to touch and go beyond the pre-pandemic levels for first time," Benher said. "However, companies might still need to navigate through headwinds such as rising inflation and price-sensitive customers, who may seek competitively priced alternatives."
More on Nike, Target
Nike: 4 Reasons To Play Defense With This Dividend Growth Stock
Target: A Value Trap, The Sell-Off Should Accelerate
What To Expect From Nike In 2024
Target Corporation Maintains Technical Strength Amid Financial Challenges
Nike sues New Balance and Skechers over patented Flyknit technology