S&P, Nasdaq, Dow rise following historically bad long bond auction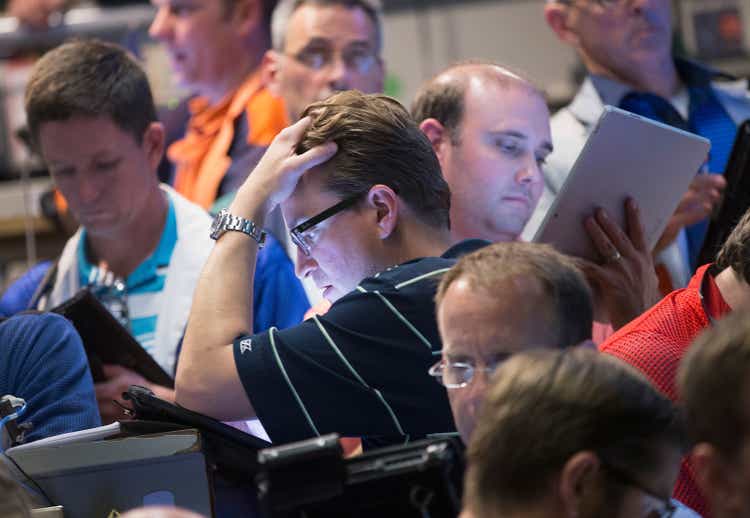 Major market averages pushed higher on Friday morning following the selloff in the previous session.
Early on and the Dow (DJI) was +0.4%, the S&P 500 (SP500) was +0.4%, and the Nasdaq Composite (COMP.IND) was +0.3%.
The averages are also mixed for the week going into today's trading. The S&P (SP500) is off 0.25%, with the Nasdaq (COMP.IND) up 0.3% and the Dow (DJI) down 0.5%.
"Generally this week it's been a series of winners for a 60/40 portfolio but that came to a shuddering halt," Deutsche Bank's Jim Reid said. "Indeed on Tuesday we paraphrased the famous "just as you thought it was safe to buy bonds" line from the Jaws movie. That was a false alarm … However, the sharks have fought back with a vengeance via a bond sell-off that was made worse by a very poor 30yr auction and what was interpreted to be a hawkish Powell speech."'
The 30-year auction tailed by a record 5.3 basis points, pricing at 4.769%.
This morning, the 30-year yield (US30Y) dipped 5 basis points to 4.71%. The 10-year yield (US10Y), which rallied the most after the auction, was down 5 basis points to 4.57%. The 2-year (US2Y) was lower by 3 basis points to 4.98%.
Allianz Adviser Mohamed El-Erian noted the "crazy volatility in US Treasuries" is "problematic for the functioning of a broad range of markets, resource allocation throughout the economy, and the standing of the US in global finance."
Dallas Fed President Lorie Logan and Atlanta Fed President Raphael Bostic round wrap up the blitzkrieg of Fed speakers this week. Both have spoken recently, with Logan watching to see if financial conditions are tight enough and Bostic saying policy looks sufficiently restrictive.
Shortly, the preliminary measure of November Michigan consumer sentiment arrives. The forecast is for little change at 63.7.