'Stranger Things' finale puts up scary streaming numbers again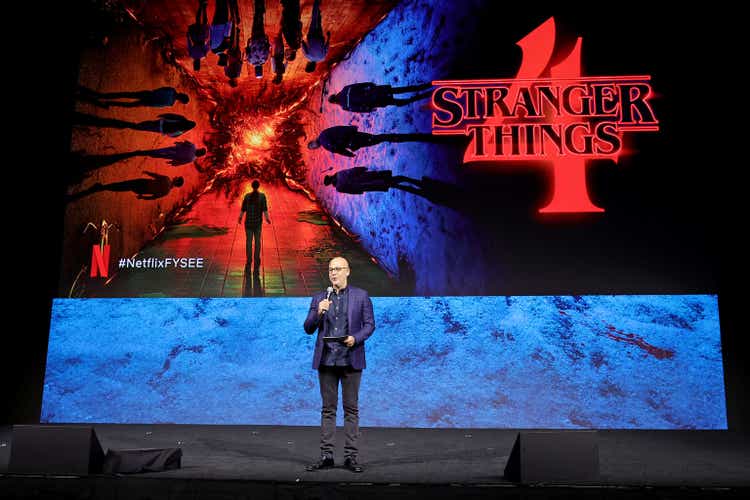 Stranger Things (NASDAQ:NFLX) reclaimed its top spot among streaming programs with a vengeance, after Netflix released the final episodes of season 4 to another strong reaction.
The mystery/horror program jumped back into the top spot with 5.911B minutes streamed in Nielsen's most recent weekly streaming ratings (for June 27-July 3). That was well ahead of its sibling program on the service, The Umbrella Academy, second with 2.219B minutes streamed, or Netflix film Sing 2, with 1.257B minutes.
Stranger Things' week saw the second-most ever minutes in Nielsen's numbers, behind only Stranger Things' earlier-season release week of May 30.
Amazon Prime Video (NASDAQ:AMZN) originals made a strong showing on the overall list, though. The No. 4 program overall was Amazon's The Terminal List (1.106B minutes), ahead of Netflix's The Man from Toronto (952M minutes) and Amazon's The Boys (951M minutes).
Rounding out the overall top 10 were NCIS (NFLX), with 787M minutes; CoComelon (NFLX), with 655M minutes; Doctor Strange in the Multiverse of Madness (NYSE:DIS), with 620M minutes; and Grey's Anatomy (NFLX), with 610M minutes.
The acquired-series chart has often been dominated by Netflix, with only occasional incursions by licensed programs on other streamers, and the most recent week was no exception: Netflix took all 10 slots, led by NCIS, CoComelon, Grey's Anatomy, and Legacies (596M minutes).
And while Netflix and Amazon wrestled atop the original-series chart, led by Stranger Things, The Umbrella Academy, The Terminal List and The Boys, Hulu (DIS) (CMCSA) jumped in at No. 5 with Only Murders in the Building (526M minutes), just ahead of Netflix's (NFLX) reality competition Snowflake Mountain (492M minutes). Hulu also added The Bear at No. 9, with 349M minutes.
The movies chart is where Disney (DIS) usually comes to play, and while the list was topped by Netflix's (NFLX) Sing 2 and The Man from Toronto, Disney+ put its Doctor Strange film at No. 3, and added Encanto at No. 5 (254M minutes) and Turning Red at No. 10 (153M minutes).
(Nielsen streaming ratings now incorporate viewing from six major streamers: Amazon Prime Video (AMZN), Apple TV+ (AAPL), Disney+ (DIS), HBO Max (WBD), Hulu (DIS) (CMCSA), and Netflix (NFLX).)
During June, streaming jumped to a record share of television time; having already passed broadcast TV, it's closing in on passing cable as the No. 1 usage of a TV.